Grinding: One Step Closer to Indulgence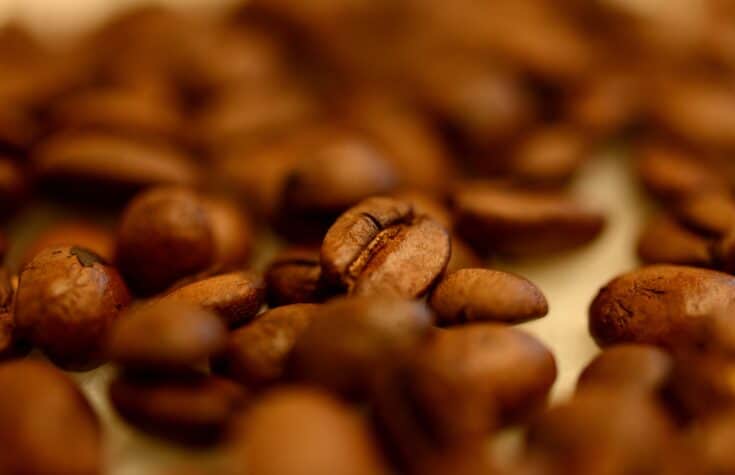 Creation, passion, inspiration! Three values that help make the perfect cup of coffee. If making your own coffee makes your day, then you're one of us! You're a proud coffee maker who dreams of a beverage that satisfies all your demands. How can you make this dream come true?
We've already talked about raw material, specialty coffee, roasting, degassing, storage and freshness. Next chapter? Grinding!
Bits of Pleasure in your Cup
At this point in the journey, we have already picked our specialty coffee, roasted it and stored it. Now, just before brewing, it is time to grind it.
Grinding means chopping the beans into micro-particulates. This is how water during the dip brewing process acquires the most flavor, and aroma from the ground coffee.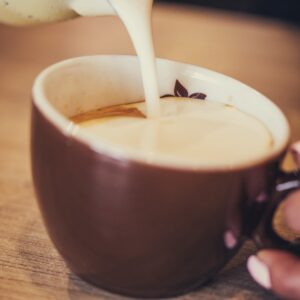 How tasty is a roast…bean?
Very! After roasting, coffee has approximately 1.000 different aromas and flavors. When grinding the beans, the cells' structure breaks down releasing color, flavor and aromatic substances, which are now more accessible when interacting with water.
There are two options: coarse grinding and fine grinding. The form of the ground coffee affects the solubility of the beans' surface, releasing their volatile aromas instantly. This is why you revel in the pleasantly intense aroma!
Tip for coffee trick: The clock starts ticking once the coffee is ground. It can start losing flavor within 15 minutes. Therefore, the best moment for grinding is right before brewing. Alternatively, we make sure we store it carefully so that it can produce – and we can enjoy – the best possible results.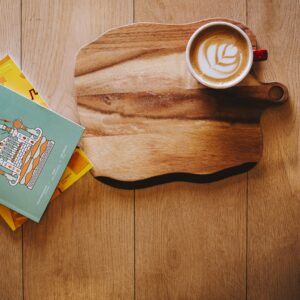 Unique coffee, unique grinding!
Every kind of coffee has its own particular grind! The bean can be ground coarsely or finely. Don't forget to take into consideration your appliance. For ibrik coffee we grind each bean into 35.000 micro-particulates, for espresso into approximately 3.500 micro-particulates, and for filter coffee into approximately 700 micro-particulates.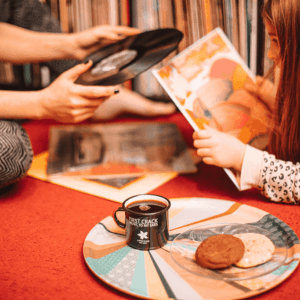 The milestones of tradition
What do we crave? A hot cup of traditional ibrik coffee! What do we get? A nice cream, full body and intense aromas that would make your grandma jealous! But, to achieve perfection, you need to grind the beans into powder. The grinders that finely ground the coffee have two millstones. To get the full picture, imagine two cylindrical millstones placed across and close to each other. During grinding they twist and turn in at great speed. Beans go in, powder goes out.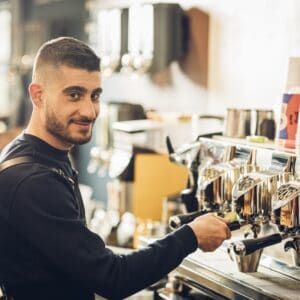 Even experienced baristi need to know your preferences
Your guidance at this point is extremely important! Whether you order your favorite coffee online or you visit our shop, you have to let your barista know what machine and filter you use.
In the case of filter coffee, the filter matters! Is it made of paper or cloth? Is it permanent or single-use? French press or Aeropress? Is it perhaps a V60?
Let the barista know!
If you prefer espresso, what machine you use is vital information. Fill your barista in on which type you use. Moka or Stovetop, multi-coffee, medium pressure (9-12 bar) or high pressure (over 15 bar)? Let the barista know before he grinds your blend or Single Estate coffee!
"How do I know what type of pressure my machine has?"
This is a very reasonable and common question. The answer is much simpler than you'd guess: if it has a nozzle and brews an espresso with rich cream, then the pressure is high. If not, your machine has medium pressure.
Tip for coffee trick: The first time is always a test. Order a small quantity of ground coffee at first to see if it is the type that suits you.

A home grinder ups your game!
The Skerton Ceramic Coffee Grinder does it all. An essential tool for every proud coffee maker.
Instructions for espresso coffee makers: Enjoy an espresso ground by you. Place the blades close together.
Instructions for filter coffee makers: For filter coffee, leave some space between the blades for a coarser blend.
Tips for grinding tricks: If the dripping is too slow or in the form of drops, create space between the blades for a coarser grind. If the dripping is too fast, bring the blades closer together for a finer grind.
Tastes too bitter? Coarsen the grind! Seems tasteless and too light? You need finer ground coffee. Don't neglect freshness. Store your coffee away from oxygen, light, humidity and odors. And repeat after us: "I only grind as much as I need to enjoy now!"
Don't forget…
In our Coffee Shops you can ask for your favorite coffee to be ground on the spot. At the same time, you can ask for blends already ground and packed in a modified atmosphere of nitrogen, capturing the entire spectrum of taste and aromas.
YOU MAY ALSO LIKE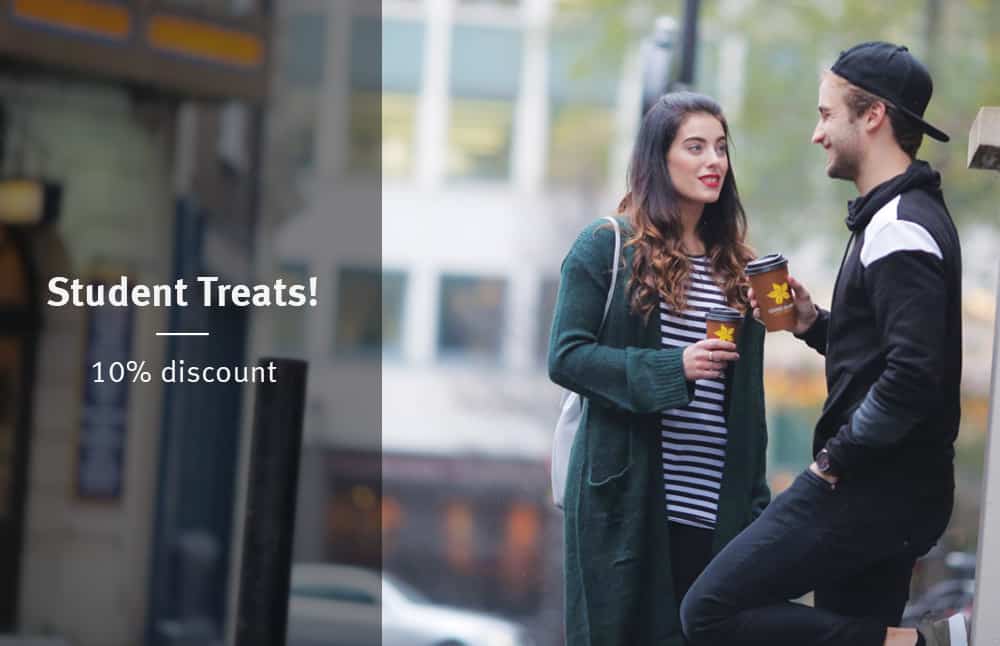 If you are a student in Toronto and a coffee lover, then you're lucky enough to enjoy a 10% off of all our coffees and beverages at our coffee shop!
The offer is valid from September 1st 2018 until August 31st 2019, so as to get you through the late nights and early starts of the whole new academic year.
You will only need to show your valid student id at the checkout to be eligible for our discount.
Creating custom and exclusive tastes, our coffees and beverages make it possible to delight you with every visit to our coffee shop. We're looking forward to welcoming you at our coffee shopand to share with you our story.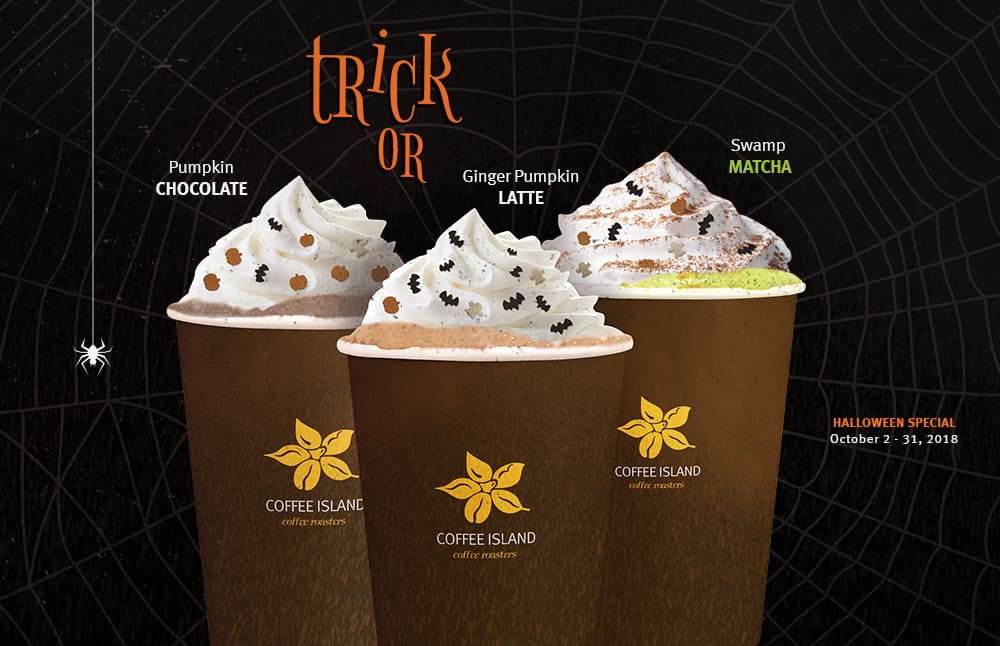 Boo! It's that time again...
This Halloween season Coffee Island has all treats for you, and no tricks, that will get you in the spooky spirit in the most delightful way! Our coffee wizards have been brewing some hauntingly delicious potions and have been creating new magical tastes that will make you scream out of ghostly happiness!