Christmas in a Cup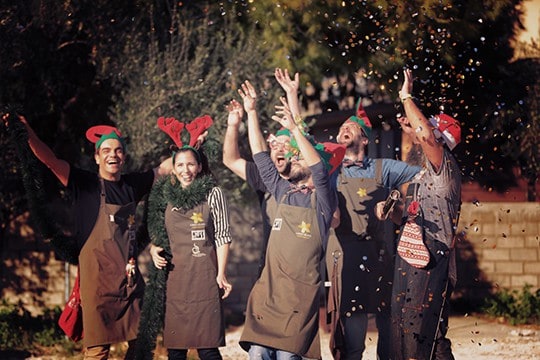 The countdown to Christmas begins! It's that time of year for yuletide decorations, evergreens and sweet treats, festive colours, bright lights, family time and carols in the streets. And what better way to stay cosy this season than with a hot cup of brew from Coffee Island?
Artisan Roasting Meets Holiday Spirit
To make the holidays extra special this year, we've donned our Santa outfits and dived right into the artisan roasting process to bring you Christmas in a cup. This process requires knowledge, talent, imagination, perfect coordination of the senses, and true dedication to the fine art of specialty coffee brewing.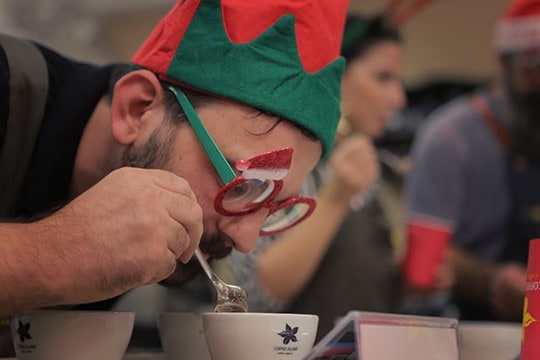 Obsessed with customisation and unique products, our R&D Department has tinkered and toiled away, night and day, to create new drinks that would make Jolly Old St. Nick proud.
Using traditional Christmas ingredients from our workshop, our team chose flavours bursting with holiday character, from cinnamon spices to ginger snaps to sweet cloves and back again.
Then, to make the ideal espresso base, our artisan roasters used sophisticated brewing methods and precise roasting temperatures to extract the nuances of the coffee.
As mouthwatering fragrances filled the air, we knew we had to share the Christmas cheer with everyone, but only after passing the quality checks. This essential phase of artisan roasting ensures the best qualities and unique tasting profiles of our coffee blends and varieties. And the quality checks never end at Coffee Island.
During this time, our experienced cuppers sipped and slurped huge amounts of coffee to ensure the presence of festive flavours and zesty aromas.  Finally, after rigorously testing each beverage to provide a joyous taste of Christmas on every sip, we're pleased to present two delectable creations this season…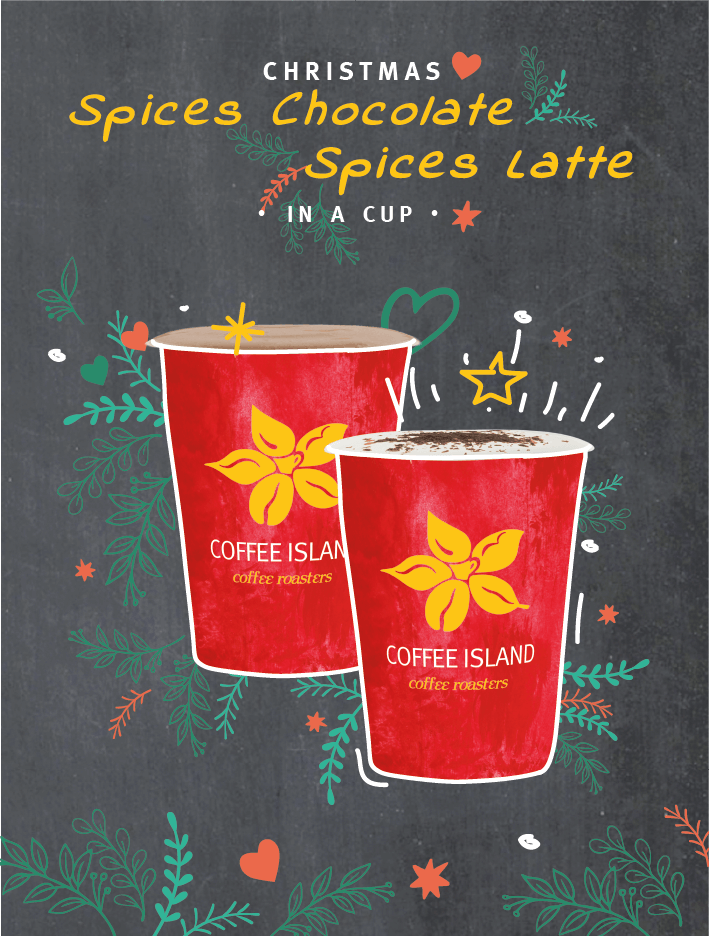 Christmas Spices Latte: Conjure the warmth of Christmas morning as bold espresso complements frothy milk, sumptuous cinnamon, ginger and white chocolate.
Christmas Spices Chocolate: Ring in the holiday season with a heavenly mix of milk chocolate, sweet nutmeg, cloves and cinnamon.
Drinks cost $4.15 each (12 oz.) and are available from mid-November. Yet, even during the holidays, we'll keep roasting in order to have your favourite coffee ready for you to enjoy.
The successful completion of artisan roasting results in the perfectly engineered coffee that we're known for, but for us, the holidays also mean festive moods, good company, constant quality tests and lots of love, devotion and passion—characteristics that we're proud to share with you. From everyone at Coffee Island, Merry Christmas and a Happy Brew Year.
YOU MAY ALSO LIKE
Nitro Cold Brew is a revolutionary, refreshing drink that has come to stay and change our drinking habits! Imagine a cold extraction coffee that preserves all the sweet characteristics of the roasting variety, giving a sweet drink without any added sugar, chocolate, caramel tasty notes and fruity aftertaste.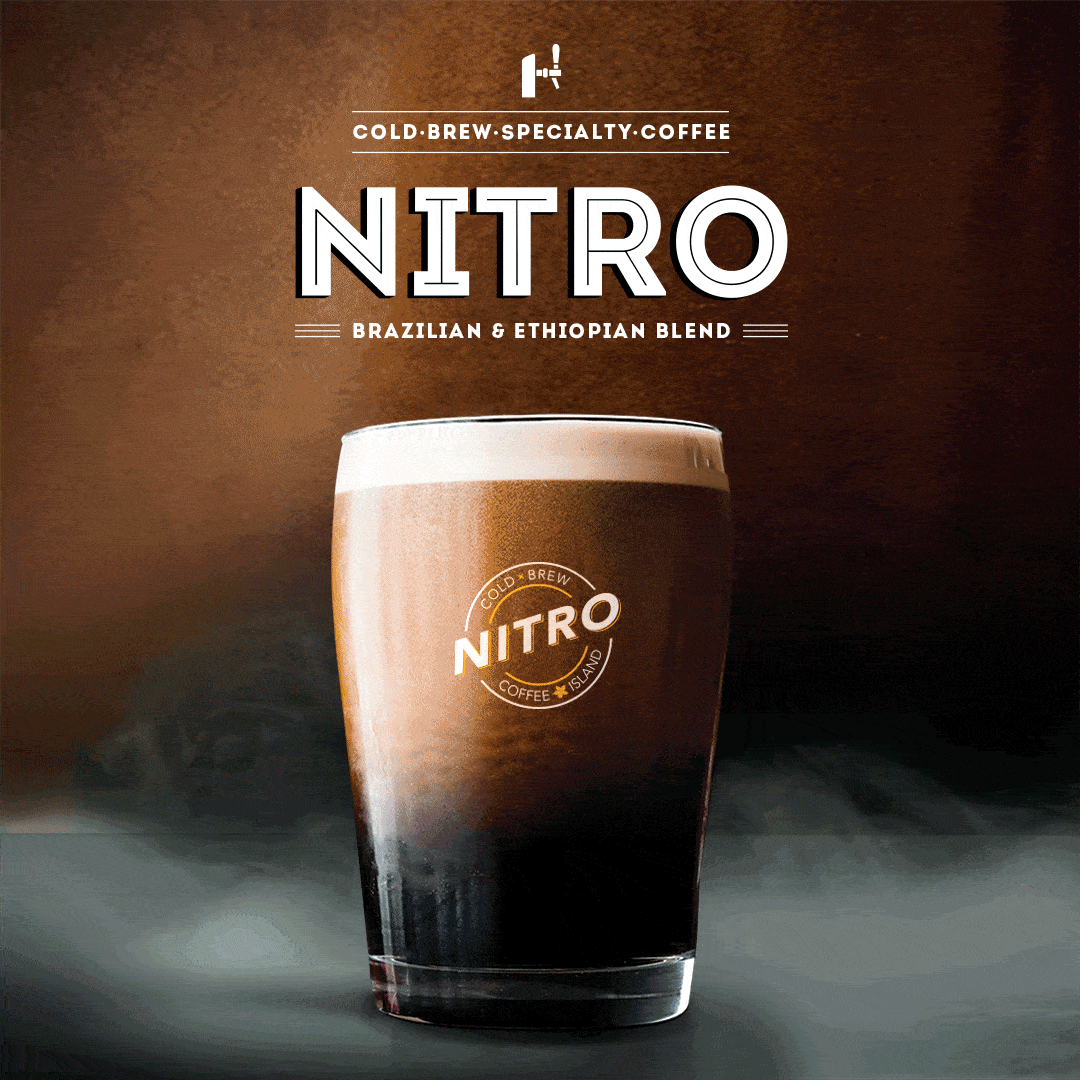 Adding Nitro to the drink to get the dense and velvety cream in combination with the unique draught serving that impresses, we end up in the best iced draught coffee in the market.
Do you know how we brew it?
The coffee is extracted with water for about 16 hours. After extraction, autoclaves are stored, where nitrogen is added under pressure. And the result is a #uniquecoffee! The nitrogen dissolves very slowly into the beverage giving a soft and smooth texture, with creamy sensation. Without any additives, the end result is a naturally sweet, bright and bold coffee that lacks the bitterness and acidity you'll find in a traditional iced coffee.
Come and taste it today!
Read More